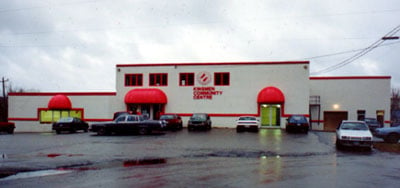 Our club is a non profit organization that was originally chartered on October 31, 1960 by the Kinsmen Club of Fredericton. The club at that time was comprised of men between the ages of 19 and 40 who met each week at different locations throughout the city and ran various service projects to raise money in support of the Kin Motto, "Serving the Community's Greatest Needs". The girlfriends and wives of the Kinsmen expressed an interest in also having a club and helping out their community so on February 20, 1969 the Kinsmen Club of Nashwaaksis chartered a club for them called the Kinette Club of Nashwaaksis. These clubs continued to grow and spawned clubs for more senior Kinsmen and Kinettes called the K-40 and K-Ette Clubs respectively.

From these beginnings sprang a joint club called the Kin Club of Nashwaaksis made up of male and female members of any age who wish to help out their community, meet new people anand d have fun in doing so. We have our own building located at 141 School Street in Fredericton.

Our members come from all walks of life and represent a majority of the occupations out there from stay at home Mom to banker.

You've seen us often in your community and probably did not realize it. We have hosted the Fredericton Santa Claus Parade for decades. We volunteer our services at a number of barbecues during the summer including the Terry Fox Run. A number of things in your community came into existence with the help of donations from the money we have raised inncluding the Royal Road Park, Royal Road Park Pool and the Doug King Memorial Tennis Court behind Nasis School to name but a few.
Our building located at 141 School Street houses seniors groups, Adult Literacy, a non profit Boxing Club not to mention our weekly Sunday Bingo. We also rent out our building, the Kinsmen Community Centre, for weddings, fundraisers, dances, etc.
We supply 2 bursaries each year to graduating students of Fredericton High School and Leo Hayes High School.

Kiinsmen, Kinette and Kin Clubs across Canada have donated millions of dollars towards finding a cure for Cystic Fibrosis, a childhood illness that meant a life expectancy in the past of only 4 years. With the research that has been done with the help of Kin donations, that life expectancy has been extended so that CF suffers are living into their thirties and beyond.
Our other major cause is funding research into finding a cure for Multiple Sclerosis. One of our past members was instrumental in getting Kin clubs across the Maritimes committed to this fight.

Our clubs also support the Hal Rogers Endowment Fund which funds bursaries for graduating students across Canada.


PLEASE VISIT OUR MAIN WEBPAGE:

disstrict7kin.ca/nashwaaksis